Odin3 v3.09 is a Samsung proprietary flashing software used to flash firmware, custom recoveries, and root Samsung Android devices. It is a small, portable program that can be run on Windows computers.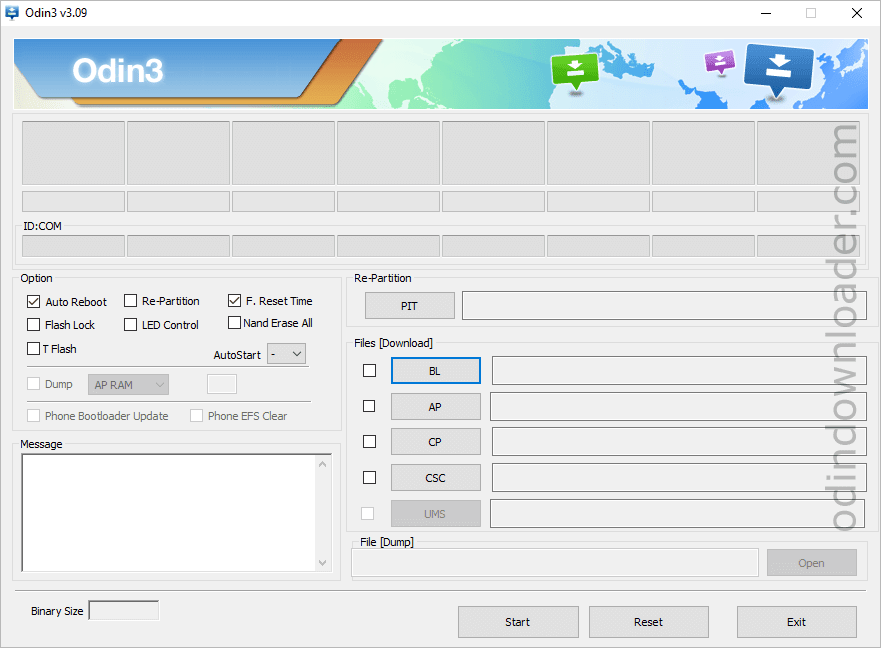 Odin3 v3.09 for Windows
Odin3 v3.09 is a flash tool developed and used internally by Samsung. It's designed to flash a custom recovery firmware image (as opposed to the recovery firmware that devices come with by default) onto a Samsung device running on Android.
Some of the Key features of the Odin3 v3.09 include:
Flash Firmware: You can use Odin to flash firmware onto Samsung devices. This is often used when updating to a new firmware version or downgrading to an older one.
Flash Custom ROM: Custom ROMs, or custom Android operating system versions, can be flashed onto Samsung devices using Odin. This allows users to gain additional features, customizations, and enhancements unavailable in the stock firmware.
Flash Recovery: Odin can flash a custom recovery onto a Samsung device. This is useful for installing updates, performing hard resets, or creating device backups.
Flash Kernel: Odin can flash custom kernels, allowing users to improve device performance or add additional features.
Flash Root Package: Odin can flash root packages onto Samsung devices, allowing users to gain superuser privileges.
Download Odin3 v3.09
| | |
| --- | --- |
| Name | Odin3 v3.09 |
| Type | Flash Tool for Samsung Devices |
| Developer | Samsung Electronics Co., Ltd |
| File Name | Odin3_v3.09.zip |
| File Size | 974.36 KB |
| Version | 3.09 |
| Supports | Microsoft Windows (32-bit and 64-bit) |
Frequently Asked Questions
What is Odin3 v3.09?
Odin Flash Tool allows users to flash firmware, custom ROMs, recovery files, and kernels, offering greater control and customization over their Samsung smartphones or tablets.
How do I install the Odin3 v3.09?
The Odin3 v3.09 is a portable application, eliminating the need for installation on your computer. Download the Flash Tool onto your computer, extract the contents, and open the Odin3.exe file to launch the program.
How to use Odin3 v3.09?
First, boot the device into Download mode. Then, connect the device to the computer and launch the Odin Flash Tool. Next, load the Firmware into the Flash tool and click the Start button to begin the flashing process. Alternatively, you can follow the instructions on How to use Odin Flash Tool to install Firmware.
Is Odin3 v3.09 Free?
Yes. The Odin3 v3.09 comes at no cost to users. This is attributed to its official release by Samsung Electronics Co., Ltd, explicitly intended to benefit those using Samsung mobile devices.
Is Odin3 v3.09 Safe?
Yes. The Odin3 v3.09 is safe for PCs, laptops, and Samsung mobile devices. Furthermore, since this Flash tool is an official release from the Samsung community, it ensures the utmost safety and security when deployed on your computing devices.
Where Can I find Samsung Firmware?
If you are looking for the original Samsung Firmware (Stock ROM), then head over to the Samsung Firmware website.